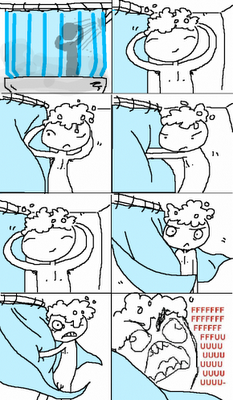 WEIRD FU
Today has seriously been an exhausting, strange, yet exciting day. I'm all over the place, getting things done but still struggling to really focus. I ran around Philly, hit up Deli Mag, chilled at Rocket Cat and scoped out some premises. I even discovered a new bit for laughter; the FU Funnies as I have coined them.  Little stick figure comics cracking jokes on the weird shit that pesters all of us. This one is definitely top five for me.The funniest part is I've always had shower doors but lately have been experiencing the shower curtain and why the hell does that steamy shower seem to devour the curtain!? Or more or less, why does that curtain feel the need to devour you when showering!? Gettin bored at the office…check out some more FU Funnies to enlighten your day.
The other bit of excitement was prepping for the launch of a Shadowscene weekly event in New York starting this week! I've teamed up with a good pal from Los Angeles and we'll be kicking off Lewd Thursdays at the Orchard Bar which, hooray, is re-opening! What's even more rad is we get to start off with Womanizer (the members of IAMSOUND's Telepathe) and Kap10Kurt. And yes, Philly, you are next in the big scheme of the party scene. I also jet back to Los Angeles next week, New York this weekend and maybe Miami for Art Basel next month! And tomorrow night is Islands in Philly…yarg! If you're not familiar with this Montreal act, definitely get into it. More bitty bits on this tomorrow.
For now, I'm sleepy. I'm too headwrapped up in design work and this entry is laggin on the humor. I'll be funnier when I wake up. Promise.
This is the end of my weird day. And if you don't like it, FU.